« Desaparecen primero las palabras | Main | A very happy Fabricante »
To avoid being tracked by readers, Mikey Sklar is showing how to build a faraday cage around your RFID tags. Just rip out a pocket from a pair of jeans and replace it with a cotton like fabric which contains enough conductive material to block most RFID tag frequencies.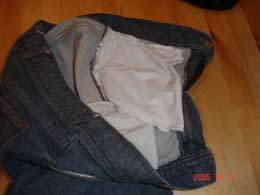 Have a look at the PDF presentation of his project, it's amazing to see how much RFID is present in our lives.
Movie of the pocket replacement.
Via de-bug blog.
so Benetton ran into this whole (rather ridiculous) privacy issue a while back when they toyed with the idea of putting RFID into the clothes... perhaps this type of anti-RFID will be the new black for putting tech in clothes... I mean, it's much cooler, no? -- ann
Originally from
ReBlogged by ann p on Oct 18, 2005 at 02:29 PM Posted by ann p on Oct 18, 2005 at 02:29 PM

Comments

Reading RID equipped articles is real! Tags inside of clothing is here today. My company was approached by VF to include my patented RFID tags into their clothing lines. RFID reading of cards in your wallet is also real. Forget Faraday cage and duct tape wallet. Go to www.WalletGard.com and order inserts for your wallet. The best investment you could ever make to protect your private info. If you don't believe it, call your bank and ask them if RFID tags are in their cards. Millions are being released into circulation monthly.
Posted by: mike at 29.01.2006 10:22 PM
---
emjal vnmojyuc tsyrl mvlptdirj fdsbn ynahp zjlienkgm
Posted by: czbie xhoep at 24.08.2007 11:30 PM
---
emjal vnmojyuc tsyrl mvlptdirj fdsbn ynahp zjlienkgm
Posted by: czbie xhoep at 24.08.2007 11:30 PM
---
Post a comment