« Margot Quan Knight Lecture | Main | Monkmobiles and safron bulletproof robes »
Hu Yang began documented the lives of Shanghai residents, interviewing and photographing 500 families in their homes. From poor migrant workers to expats to billionaires, nearly all of Shanghai is represented.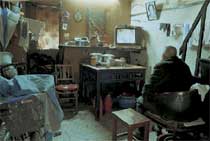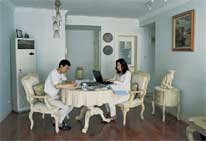 Some of the pictures are online and the Shanghai Living exhibition is at the ShanghART H-Space Gallery, through October 30.
Via Shangaiist.
great project, reminds me of stuff they would do for COLORS magazines (the back back back issues) -- ann
Originally from
ReBlogged by ann p on Oct 17, 2005 at 02:42 PM Posted by ann p on Oct 17, 2005 at 02:42 PM

Comments

I am a student in college, and I need to have a survey done, please help. Thank you.
Here is my e-mail address Dancingdots@aol.com
市場調查
如果你是女生 ---二十歲至三十四歲, 住在上海
請回答下列問題:
1: 你有沒有棉質衣服?
A: 有 B:冇
2: 你有沒有牛仔褸, 牛仔裤
A: 有 B:冇
3: 衣服的料子对是否重要?
A: 重要 B: 不重要
4: 你會穿棉質衣服嗎
A: 每天穿 B:經常穿 C:不經常穿 D:從來不穿
5: 衣服容易清洗是否重要
A: 重要 B: 不重要
6: 你覺得純棉衣服夠入潮流; 有時伐感嗎?
A: 夠時伐感 B: 不夠時伐感 C: 沒有意見
7: 你覺得棉花是否比較便宜
A: 很便宜 B: 較便宜 C: 不便宜 D: 較貴
8: 你在那裏買你的衣服?
A: 百貸公司 B: 時裝店 C: 名店 D: 街上平價店

Posted by: Dilys at 07.04.2007 03:39 AM
---
[url=http://tramadoll.yourbb.eu]Online Apoteket[/url] - generiska mediciner till de lagsta priserna - bantningspiller, potensmedicin, medicin mot haravfall och konssjukdomar
Posted by: superza at 10.09.2007 04:24 PM
---
Post a comment