« Keep A Breast Auction Now On Ebay | Main | Glamrus frilly knickers »
After having asked viewers to identify Britain's worst building for a reality series (to culminate in a live broadcast of the building's destruction), Channel 4 is to launch The Big Art Project.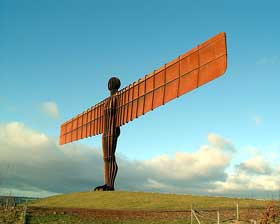 The TV series is seeking nominations from communities, identifying sites where a piece of significant public art could be placed. Six sites will be shortlisted in January, and the series will follow the progress of the communities working with artists to commission and create the pieces. The completed works are expected to be unveiled in October 2007.
Chosen communities will work with experienced curators to draw up a brief for the chosen artist. Artists who have expressed interest in the project include Gavin Turk and Turner-prizewinner Jeremy Deller. Anish Kapoor said: "This is a fantastic project, it is an opportunity for some world class, risky art." Yinka Shonibare added: "It is a fantastic idea."
"We want to empower people to create and want art in their own towns," said Channel 4 head of arts Jan Younghusband. "I feel it's an important subject to address; we don't necessarily appreciate the value of public art and why it costs what it does."
Via The Guardian. Picture: The Angel of the North, by Anthony Gormley.
Originally from
ReBlogged by ann p on Oct 28, 2005 at 03:31 PM Posted by ann p on Oct 28, 2005 at 03:31 PM

Comments

Post a comment