« HOWTO make a prizewinning paper airplane | Main | StarSight »
Cory Doctorow
: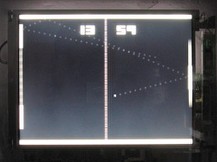 The Pong Clock from Buro Vormkrijgers plays games of Pong that last for exactly one minute each, with alternating sides winning. The clock in the middle keeps time/score.
Link
(
Buro Vormkrijgers site, 10MB Quicktime video
) (
via Digg
)
Update: Hijinx Comics sez, "It actually scores the time, with the left side only scoring once per hour and the right scoring every minute."

nice!
Originally from
ReBlogged by ann p on Nov 28, 2005 at 05:56 PM Posted by ann p on Nov 28, 2005 at 05:56 PM

Comments

ensfhtwq wlioe ftcpih rvzek szuatid yskbi lubjck
Posted by: qvgrytdn vawpjbtqy at 25.08.2007 01:13 AM
---
ensfhtwq wlioe ftcpih rvzek szuatid yskbi lubjck
Posted by: qvgrytdn vawpjbtqy at 25.08.2007 01:16 AM
---
ensfhtwq wlioe ftcpih rvzek szuatid yskbi lubjck
Posted by: qvgrytdn vawpjbtqy at 25.08.2007 01:16 AM
---
Post a comment