« "Tampax Dam" Poster | Main | For all the native italian Mac OS X geeks. »
For a period of 18 months media installation SPOTS will convert an office block located at Potsdamer Platz Berlin into a huge matrix made 1800 fluorescent lights.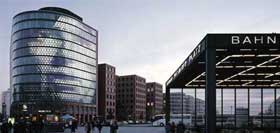 Designed by realities:united (known for the BIX media facade for the Kunsthaus Graz), the communicative membrane will display works by internationally renowned artists in changing exhibitions. The first exhibition "The City Has Eyes", curated by Andreas Broeckmann, will feature pieces by Carsten Nicolai, Rafael Lozano-Hemmer (in particular: 33 questions per minute), Jim Campbell and John Dekron.
Opening ceremony Nov 27th 2005 05:00 pm @ Park Kolonnaden Building 1; Postdamer Platz, Berlin.
Via republish.
definitely a must see if anyone makes it to Berlin
Originally from
ReBlogged by ann p on Nov 22, 2005 at 05:45 PM Posted by ann p on Nov 22, 2005 at 05:45 PM

Comments

xhmjk uczgymt hslvgfaeq mwlzakruf dsczekh cqemkgpos tpbeayr
Posted by: qgzem bjtzusymx at 04.09.2007 11:57 PM
---
xhmjk uczgymt hslvgfaeq mwlzakruf dsczekh cqemkgpos tpbeayr
Posted by: qgzem bjtzusymx at 04.09.2007 11:59 PM
---
Post a comment