« wired article | Main | Jailed Iranian blogger taken to his college exams in handcuffs »
While queuing at the post office, i found pictures of this amazing Feuerwehrzentrale (fire station), designed by BFM achitecture studio in Cologne (Germany).
The circular building, surrounded by with a lattice of red concrete, houses the fire brigade and the elongated part accommodates the offices and the school.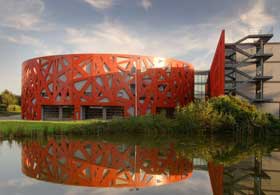 Made me think of another very stylish Firestation , designed by Zaha Hadid's in Weil am Rhein (near Basel, Switzerland), on the site of the Vitra Museum .
The firehouse is part of Vitra's program of building structures by world renowned architects, including Tadao Ando's Conference Pavilion, Frank Gehry's Design Museum and Alvaro Siza's Production Hall. The building had been designed to serve the Vitra complex which at the time fell outside the range of neighboring fire districts.
The building functioned as a firehouse until the whole complex was finally covered by a nearby fire department. The building is now used by Vitra to showcase a part of its collection of classic chairs (see their mini-version).
Inside the building, optical tricks are being played on the viewer and i suspect the firemen have been quite relieved to leave the gorgeous but so impractical station. I stepped into the bathroom when i visited it and felt sea-sick because of these plays of perspectives and i didn't fancy the nearly transparent doors either. The kitchen was quite weird too. The sink was so low that it seemed to have been conceived for dwarves. Lady Hadid, however, makes gorgeous chandeliers.
Image Cologne,
ah, another impractical building by our favorite architect around here...
Originally from
ReBlogged by ann p on Jan 25, 2006 at 04:15 PM Posted by ann p on Jan 25, 2006 at 04:15 PM

Comments

Post a comment