« Artist makes faux Chinese lacquer scenes from porn mags | Main | RIP Nam Jun Paik »
Right wing groups in France and Belgium have for weeks been handing out pork soup to homeless people on frigid winter's days. But Muslims and Jews are forbidden by their religions from eating pork -- and excluding these groups, say many, is exactly the point of the handouts.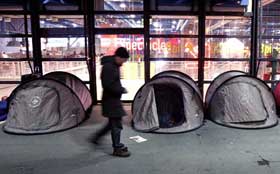 Strasbourg has banned the distributions of the so-called "identity soup" earlier this month. Authorities in Paris have recently stopped the handouts at both Montparnasse and Gare de l'Est train stations on the grounds that the group had no permit. Elsewhere, for lack of legal violations, the pork soup philanthropy continues.
"Identity soup" is on its third winter in Paris, though this is the first year it has spread elsewhere. Local groups behind the scheme are planning a "great festive meal of European solidarity" in Paris in February. The goal is to defend the European identity. Anti-racism groups are concerned that the far right is attempting to drum up has support ahead of the 2007 presidential elections.
Via Der Spiegel.
Image: To protest against the lack of shelters for homeless in winter, the ONG Médecins du Monde distribuited a few weeks ago 150 "igloos" in prestigious zones of Paris. Picture shows the tents in front of the Centre Pompidou. (via Libération and 20 minutos)
figure we should check out what goes on at the centre pompidou...
Originally from
ReBlogged by ann p on Jan 30, 2006 at 11:25 AM Posted by ann p on Jan 30, 2006 at 11:25 AM

Comments

Post a comment