« USB Heated Foot Cozy | Main | Good reasons to love Nord Est »
In bed with fever and a super flu. I hate that of course, but as this guy says...
Here's a few interesting events for the healthy ones:
- MA 2006 EXPO : Thing/ks: an exhibition of prototypes and projects from the PG
Certificate level by students of MA Interactive Digital Media and MA Network Media Environments, Ravensbourne College of Art, London. At the CAVE Atrium from 4 PM today. Continuing 19-20th January 12 - 6 PM. (thanks Karel)
- What isn't design? A discussion about the changing definition of contemporary design, together with Hilary Cottam, Jane Dillon, Mark Delaney of Plan and Marcus Fairs, in Script, the first of a new series of topical monthly design debates in the Design Museum, London. Monday 23 January. (Thanks Cristina Bisland.)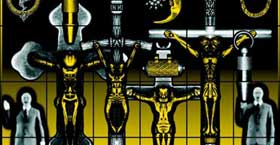 - In London again, if you're into Gilbert and George.

- Debate Interrogating Interactive Art with Matt Amdams, Ross Cooper, Lauren Parker, and Stefan Roveda. T Bar, London, January 24.
Tuesday 24 January [7pm]
- The New Media, Visual Communication and Film & Video students at the Merz Akademie in Stuttgart will be presenting their works during the Winter Show to be held on January 27 and 28 (at least that's what i gathered from the invitation written in german i received last week).
- The next Pecha Kucha London night will be on Thursday 9 February. Speakers include: Dunne & Raby, Plasma Studio, Julian & Sophie, David Kester, etc. Unsurprisingly tickets are sold out. ICA, The Mall, London.
- If you're planning to go to LIFT06 in Geneva, Transmediale and dorkbot in Berlin, come and say hi. Also i'll be in Aachen, Maastricht and Brussels from Saturday 21 till Wednesday 25, if there's any show i should attend, suggestions are welcome.
A last tip: if you're interested by one these events but can't go cuz accomodations are pretty expensive, Henriette Weber Andersen has set up Can I Crash, sorf of couchsurfing but only for bloggers. Brilliant idea. I'm about to move to berlin, as soon as i'm a bit comfy there, i'll add my address to the growing list.
Originally from
ReBlogged by ann p on Jan 19, 2006 at 11:16 AM Posted by ann p on Jan 19, 2006 at 11:16 AM

Comments

Post a comment