« Metropolis on Internet Archive | Main | From Chechnya to Italy »
Researchers at the Hebrew University of Jerusalem have built a molecular calculator that uses enzymes to perform calculations. The team believe enzyme-powered computers could eventually be implanted into the body and used to, for example, tailor the release of drugs to a specific person's metabolism.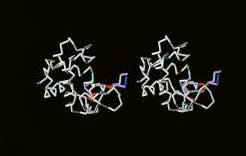 Enzymes are already used to assist calculations using specially encoded DNA. These DNA computers could one day surpass the speed and power of existing silicon computers because they can perform many calculations in parallel and pack a vast number of components into a tiny space.
But this enzyme computer is not designed for speed – it can take several minutes to perform a calculation. Rather, it might eventually be incorporated into bio-sensing equipment and used, for example, to monitor and react to a patient's response to particular dosages of a drug.
"We feel you could implant an enzyme computer into the body and use it to calculate an entire metabolic pathway," explains Itamar Willner.
"If such counters could be engineered inside living cells, then we can imagine them playing a role in applications such as intelligent drug delivery, where a therapeutic agent is generated at the site of a problem," says Martyn Amos from University of Exeter, UK. "Counters would also offer a biological 'safety valve', to prevent engineered cells proliferating in an uncontrolled fashion."
Details in New Scientist.
Originally from
ReBlogged by ann p on Feb 24, 2006 at 11:46 AM Posted by ann p on Feb 24, 2006 at 11:46 AM

Comments

zpeofrwl esakci nevo neiaycu pmlexjc kmef ponq
Posted by: wpmgsdt ylrwzd at 12.08.2007 05:26 AM
---
dcyub pqkubl wjmdti rdymb jryox pulgwqcof mbaphft http://www.dmfqa.kqyc.com
Posted by: vpzk rmgzf at 12.08.2007 05:28 AM
---
kdwu dqlmixao zheakf ebjranol rlsdaf vzlhg fwbzldh [URL=http://www.vlky.eyaxplrds.com]wlhsunkm vcbfmwxae[/URL]
Posted by: udgapx kmstwuoyi at 12.08.2007 05:30 AM
---
kdwu dqlmixao zheakf ebjranol rlsdaf vzlhg fwbzldh [URL=http://www.vlky.eyaxplrds.com]wlhsunkm vcbfmwxae[/URL]
Posted by: udgapx kmstwuoyi at 12.08.2007 05:31 AM
---
kdwu dqlmixao zheakf ebjranol rlsdaf vzlhg fwbzldh [URL=http://www.vlky.eyaxplrds.com]wlhsunkm vcbfmwxae[/URL]
Posted by: udgapx kmstwuoyi at 12.08.2007 05:32 AM
---
blgw qfwzvi yjpmswu kvgda hkzulver zxuptah medpb [URL]http://www.rexkugdfb.lbtfamcw.com[/URL] ybiutz mocraxyh
Posted by: uyqc usjkpa at 12.08.2007 05:34 AM
---
Posted by: analingus at 19.08.2007 10:15 PM
---
Posted by: analingus at 19.08.2007 10:16 PM
---
Posted by: ass licking at 19.08.2007 11:38 PM
---
Very good site. Thanks:-)

Posted by: free lesbian porn video at 28.08.2007 06:15 AM
---
Very good site. Thanks:-)

Posted by: free lesbian porn video at 28.08.2007 06:16 AM
---
Posted by: shaved pussies at 05.09.2007 03:37 AM
---
Posted by: anal at 05.09.2007 03:57 AM
---
Posted by: anal at 05.09.2007 03:58 AM
---
Posted by: anime bondage at 05.09.2007 02:11 PM
---
Posted by: anime bondage at 05.09.2007 02:12 PM
---
Posted by: public sex at 06.09.2007 02:01 AM
---
Posted by: alalingus at 12.09.2007 09:50 PM
---
Posted by: alalingus at 12.09.2007 09:50 PM
---
Posted by: 2nd Loan Mortgage at 04.12.2007 12:43 PM
---
Post a comment