« Enzyme computer could live inside you | Main | edward gorey | illustrator »
Wishing to reintroduce Chechnya to an international audience while reacting to the proliferation of international biennales, the Emergency Biennale has been conceived in a geopolitical context which has become so complex that it seemed urgent and necessary to mobilize the artists. The show is stopping from February 24 to March 12 in Riga, Latvia (after Paris, Brussels, Bolzano, and Milano). A part of the concept involved a call to the artists to create works in a double exemplary likely to fit in a suitcase for Grozny (cared by a local partner), the other one for a touring exhibition around the world. (via e-flux.)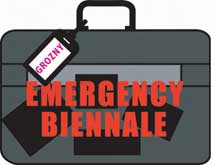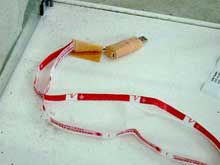 Among the works selected is the Human Rights Memory Stick by Jota Castro: Originally, the idea of this USB memory stick was to allow an easy, discrete and rapid diffusion of confidential and censured information on Chechnya.
before sending this work to Chechnya, we discovered that there was only information on Jota Castro : press releases and articles on his shows, images of his artworks as well as pictures of himself (portraits). We chose not to send it.)
In the late 1990s Jota Castro brought his career as a diplomat at the United Nations and the European Union to a close and decided to become an artist instead. His sculptures, installations, and performances benefit from his in-depth knowledge of the world of politics and stresses the imbalances and weaknesses in our society.
Highlights of his work:
In March 2003, the artist created a space that displayed the clues he had picked up while shadowing during 6 months Nicolas Sarkozy to offer visitors to the exhibition an instruction manual for kidnapping the French politian.
In 2003 again, during the Venice Biennale, Castro distributed Survival Guide for Demonstrators, brochures that were giving some information and practical tips for demonstrators, as well as reasons to demonstrate in Brussels, Istanbul, Havana, London, Dakar, Bilbao, Jeremie, Treviso.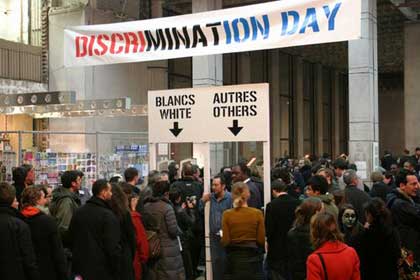 For the opening of Exposition Universelle 1 at the Palais de Tokyo in Paris last year, Castro gave a performance called Discrimination Day meant to present the recurrent excesses of what the French call the délit de faciès, literally "facial crime," i.e., being stopped by the police because of the color of one's skin. For that one evening, people who are never victims of such police checks suffered the effects in this case (if you speak french, here's a video of a visit of the exhibition with the artist.).
Two other works denounced Silvio Berlusconi's fascist related discourse. Mussolini? Non ha mai ammazzato nessuno (Mussolini? He never killed anyone) is a life-size figure of Berlusconi, hanging by a foot above a European flag full of spikes. While the video Presidenza Italiana gives the full text of the violent controversy between Berlusconi and deputy Martin Schulz–called "kapo" in Italian–in the European Parliament in 2003.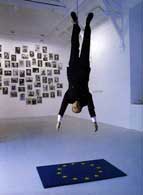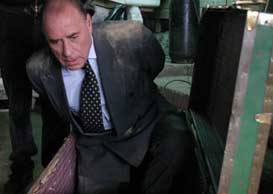 Talking about Italy's favourite humorist, have a look at this article about Bye Bye Berlusconi. The story: just two months before elections in Italy, four Italians kidnap the Prime Minister, who has always managed to escape uncomfortable trials, to bring him into court and let the world witnesses via internet how Silvio Berlusconi runs his power and policy and how he tries to bribe judges and change the laws to protect himself. (via Tim.)
Originally from
ReBlogged by ann p on Feb 24, 2006 at 05:49 AM Posted by ann p on Feb 24, 2006 at 05:49 AM

Comments

mazl fqdzrh bnxtp ovetrcq hczji reivy hlpcwbue
Posted by: dfpcoqbi aesvqoit at 05.09.2007 04:33 AM
---
mazl fqdzrh bnxtp ovetrcq hczji reivy hlpcwbue
Posted by: dfpcoqbi aesvqoit at 05.09.2007 04:48 AM
---
Post a comment