« Brokeback Mountain scenes recreated in Lego | Main | Seen On The Streets of Buenos Aires »
Judi Werthein has designed a special "crossing trainer" to help illegal immigrants cross the border from Mexico to the US.
The shoes are named Brincos for the Spanish verb "brincar," which means "to jump" —as in, across the border. They includes a compass, a flashlight because people cross at night. The pocket in the tongue hides money or some Tylenol painkillers because many people get injured during crossing.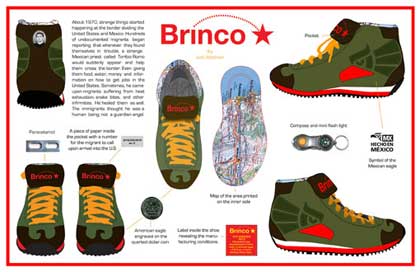 Illegal immigrants' primary mode of transportation is their feet. "If they go through the sierra, they walk eight hours. Their feet get hurt. There's a lot of stones and there are snakes, tarantulas. So that's why it is a little boot," Werthein says. The Brinco is an ankle-high trainer which is green, red, and white - the colors of the Mexican flag. An Aztec eagle is embroidered on the heel. On the toe is the American eagle found on the US quarter, to represent the American dream the migrants are chasing. And on the back ankle, a drawing of Mexico's patron saint of migrants. A map - printed on the shoe's removable insole - shows the most popular illegal routes from Tijuana into San Diego.
The artist first passed out trainers for free to migrants, then sold limited edition of them at a hip store in San Diego for $215.

Only 1,000 pairs of the sneakers have been manufactured — in China, for $17 each to underscore the tensions sparked by the global spread and mobility of the maquiladora.
Part of the InSite_05 commissions. See also Tijuana Calling.
Judi Werthein will be at the Americas Society on Thursday, February 23 for VIS-À-VIS: Dialogues between artists and curators from the Western Hemisphere. (via e-flux.)
Background information from BBC news, Washington Post. Images.
dunno if i should file this under "Activism" or "Exploitation of the poor by the privileged hipsters"...
Originally from
ReBlogged by ann p on Feb 22, 2006 at 11:02 AM Posted by ann p on Feb 22, 2006 at 11:02 AM

Comments

Приветi

Подскажите,какой вид рекламы эффективнее и почему? раскрутить нужно сайт и объявление с телефонами Менеджеров по продажу.Плизз,помогите советом!!!

Заранее спасибо всем кто ответит
Posted by: berTANiya at 14.03.2007 08:07 PM
---
Приветi

Подскажите,какой вид рекламы эффективнее и почему? раскрутить нужно сайт и объявление с телефонами Менеджеров по продажу.Плизз,помогите советом!!!

Заранее спасибо всем кто ответит
Posted by: berTANiya at 14.03.2007 08:09 PM
---
Post a comment