« echo audible network | Main | Songbird, the "open source iTunes killer," flies today »
Cory Doctorow
: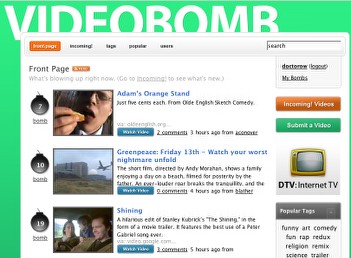 Video Bomb is a new video- playlist- publishing tool from Participatory Culture Foundation, the same people who brought you the brilliant
DTV
Internet video client.
Video Bomb lets you grab Internet videos you like and publish them as a feed -- "bomb" them -- that your friends or fans can subscribe to, so all the online video you find ends up in their video player automatically, It lets you program and publish your own TV station made up of anything you find online and anything you make and publish.
Video Bomb is designed to make video-sharing social and sustainable. It uses Digg-like voting to bubble the best videos to the top of the list, and Delicious-like tagging to help you make sense of the pile.
Like all Participatory Culture Foundation projects, Video Bomb is simple, elegant and powerful. It has wonderful gracenotes like "publisher hookup" in the video-submission form -- that's where you embed links to t-shirt, donations, or merchandise offered by the video's original publisher, so that everyone who gets your feed will have the chance to reward the creators and sustain their work. Link
(Disclosure: I'm a proud member of the Participatory Culture Foundation's Board of Directors)

Originally from
ReBlogged by ann p on Feb 9, 2006 at 12:09 PM Posted by ann p on Feb 9, 2006 at 12:09 PM

Comments

Post a comment