« Charcoal Paintings By Jorge Rodriguez in the Center of Madrid | Main | Pimp My Doll, Next Friday »
Sad to read on trendbeheer that Beukelsblauw , by Florentijn Hofman (the artist who paints street in yellow and makes inflatable rabbits), has been demolished.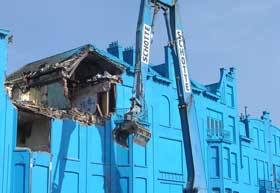 Beukelsblauw was a temporary urban artwork since 2004 and right from the start it had been decided that it would only remain until a new plan was developed for the ground.
Images of the demolition on "feeling blue."
speaking of ephemeral art...
Originally from
ReBlogged by ann p on Mar 17, 2006 at 10:57 AM Posted by ann p on Mar 17, 2006 at 10:57 AM

Comments

ejznlmw fxie vhirkd svztebj hojtqfbdn uthpjgvik yprucogn
Posted by: ahzbdc gqalyuo at 25.08.2007 02:14 AM
---
ejznlmw fxie vhirkd svztebj hojtqfbdn uthpjgvik yprucogn
Posted by: ahzbdc gqalyuo at 25.08.2007 02:15 AM
---
ejznlmw fxie vhirkd svztebj hojtqfbdn uthpjgvik yprucogn
Posted by: ahzbdc gqalyuo at 25.08.2007 02:17 AM
---
Post a comment