« Walk..... And Keep Walking | Main | Virtual club to rock game culture »
Rather than simply designing houses, the Graz-based architects SPLITTERWERK are reinventing the way we inhabit domestic spaces.
Between 1994 and 1996, they built The Red Treefrog, a row of twelve stridently rust-coloured maisonettes on the edge of the wetlands, where in spring the frogs go about their noisy business.
In recent years, this building has seen the birth of two siblings: the "black" and the "green" treefrogs.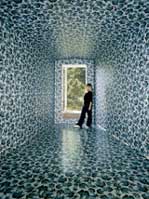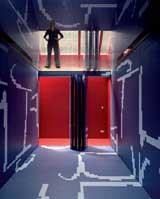 The Black Treefrog is an insignificant existing structure, together with a garage added later for the fire brigade, converted into a ten-unit apartment complex. The new outer skin of the structure, which consists of two buildings, is formed by black impregnated wood lamellae while the inner skins are coated in coloured wooden materials that surround the individual living units. The flats are accessed by a path which creates an accessible free space in front of each entrance. Liberated from the existing walls, new inner skins are created that correspond to the outer skin. The functional areas are integrated into the space between the inner and outer walls. This produces an empty centre where the living functions can be switched concurrently or successively. The staircase becomes a virtual exterior room, wallpapered with photorealistic vine-leaf patterns that leave the impression of an LSD-trip on the retina (check also the Blue Shell flat).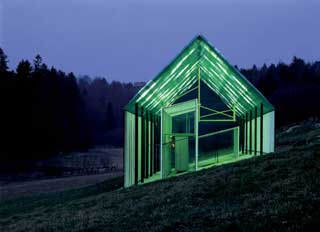 For the Green Treefrog, the architects allowed the slope to "flow through the building". Above a green area measuring approximately 10 by 25 metres, twelve columns support an airy structure, which, if interpreted as a pitched roof, would slope at an angle of 45 degrees. This two-layered structure consists of an upper and a lower skin of green translucent corrugated polyester. Between the skins there is a lighting system consisting of fluorescent tubes and the roof structure of wood and steel.
Recently the architects admitted that they would like to construct a building in the form of a frog, the "frogscraper".
In 2003 already, they had imagined another zoomorphic building: Duck House.
Via Domus.
Originally from
ReBlogged by daniel h. on Nov 4, 2005 at 05:24 PM Posted by daniel h. on Nov 4, 2005 at 05:24 PM

Comments

Post a comment