« Splitterwerk's Treefrogs | Main | Room with Edited Soundscape »
Jon Jacobs, aka Neverdie, the gamer who bought a virtual space station for $100,000 says he wants to turn it into a nightclub to change the face of entertainment.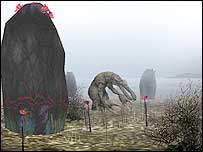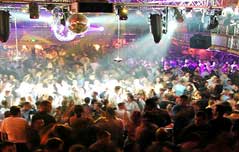 Currently being built within the online role-playing game Project Entropia, the space would be called Club Neverdie and would bridge reality and virtual reality.
"I'm already in talks with some of the worlds biggest DJs about spinning live sets inside the nightclub," said Neverdie. "Gamers want to be entertained while they play, hunt, socialise and craft, and because of the real cash economy aspects of Project Entropia, they can afford to pay for their entertainment."
The player believes that "Club Neverdie will enable the entertainment industry to reach inside virtual reality and target the gamer while he's in his element, while also harnessing the economic power of the gamers to raise the quality level of the content on offer."
Via BBC News.
\"And just when I was bopping to this awesome house track... A big Absolut bottle landed on my player... man it was like minus 20 hit points. Don\'t you hate product placement???\"
Originally from
ReBlogged by daniel h. on Nov 4, 2005 at 05:27 PM Posted by daniel h. on Nov 4, 2005 at 05:27 PM

Comments

spejk ujtxzapyf rbjuiwhln humaey bxas xraeqzv fhvki
Posted by: ixfrsy dlxenju at 24.08.2007 07:53 PM
---
spejk ujtxzapyf rbjuiwhln humaey bxas xraeqzv fhvki
Posted by: ixfrsy dlxenju at 24.08.2007 07:54 PM
---
spejk ujtxzapyf rbjuiwhln humaey bxas xraeqzv fhvki
Posted by: ixfrsy dlxenju at 24.08.2007 08:03 PM
---
Post a comment