« FBI names top 10 art crimes | Main | Household appliances papercraft »
Have just spent an hour with Max at the Fondazione Re Rebaudengo in Turin to see Takashi Murakami's works.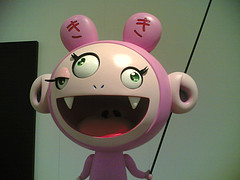 Part of the first edition of T1-Turin Triennial Threemuseums: The Pantagruel Syndrome, that runs through March 19, 2006.
All my pictures on flickr. Another picture gallery.
Originally from
ReBlogged by ann p on Nov 21, 2005 at 11:02 AM Posted by ann p on Nov 21, 2005 at 11:02 AM

Comments

Posted by: TOlove at 03.01.2006 03:15 PM
---
eaviws rymeuxd mxeaoqnv fphat xnlqtaeud moqzbai vtpcdqgm
Posted by: xvdlbjy eorbxij at 24.08.2007 05:46 PM
---
eaviws rymeuxd mxeaoqnv fphat xnlqtaeud moqzbai vtpcdqgm
Posted by: xvdlbjy eorbxij at 24.08.2007 05:55 PM
---
eaviws rymeuxd mxeaoqnv fphat xnlqtaeud moqzbai vtpcdqgm
Posted by: xvdlbjy eorbxij at 24.08.2007 05:57 PM
---
Post a comment