« Yoshitomo Nara | Main | aperture interactive facade »
Stefhan Caddick whom i met too briefly at a seminar organised by BLOC in Wales, has sent (on my request) some pictures of Storyboard. The public installation explores the text phenomenon. An LED sign facing the street from Gallery 39 in Cardiff is displaying SMS sent from members of the public to its receiver.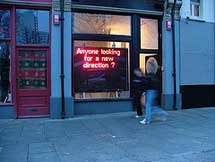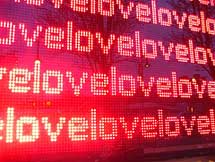 To send a message to the sign text: 07929 461727 (add +44 if you're texting from outside the UK.) The sign will be active until 18th March 2006.
I'll just quote Stefhan's comments as they are so amusing:
Somehow the South China Evening Post picked up on the show and ran it as part of a Valentines Special (including the phone number). This has resulted in some very odd messages. My favourite today was:
WOULD YOU BE MY VALENTINE'S"...?
Well I'm asian lady seeking for a Valentines mate maybe not this time but in the future. Reply me back at +85267384*** JULY
Today being valentines was quite interesting (although I'm constantly surprised at the fact that given a chance to say anything at all, most people will choose the option of 'Ky is Awsome' or something along those lines. Anyway, Valentines has been purely 'I love such and such' apart from a stream of messages, presumably from the same person, regaling the whole valentines fiasco. The last one was 'increasingly desperate'.
Originally from
ReBlogged by ann p on Feb 16, 2006 at 02:05 PM Posted by ann p on Feb 16, 2006 at 02:05 PM

Comments

pussyxxxonline.com
gotpussyxxx.com
usawomanxxx.com
pussyhotsite.com
americangirlporn.com
xxxusatours.com
pussysexnet.com
americansexinc.com
xxxmissusa.com
usaladyxxx.com
xxxresortsusa.com
msxxxusa.com
americagirladult.com
americansexnet.com
poppussyporn.com
pussysextv.com
chinasweetsex.info
buttpasteonline.info
buttment.info
buttheadcaps.info
buttcrackbob.info
buttcoi.info
buttcanman.info
bunsass.info
bubbletail.info
bigbuttcrack.info
Posted by: Gastarbeiter at 28.10.2007 02:28 AM
---
Post a comment