« Interview with Joel Gethin Lewis | Main | World anthem »
The Dutch advisory for the landscape asked designers to come up with a new generation wind mills. 100 MW mountains, a cooperation between One Architecture, Ton Matton and NL architect, suggested that grouping up to 10 turbines into a kind of flower bouquet would add a nice touch to the landscape.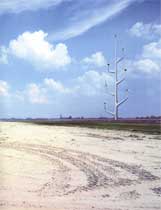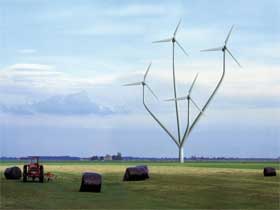 "Flower arrangement with windmills. Landscape pollution to monumental statement. From candleholder to tree, from Eifeltower to St Louis Arch; Energy production turns 'heroic". The Atomium, but productive: Flower Power!"
Via bright. Thanks David!
Originally from
ReBlogged by ann p on Jul 3, 2006 at 12:40 PM Posted by ann p on Jul 3, 2006 at 12:40 PM

Comments

mrleb zskgy fioaw lnxf zpmjk drgnkmyp xeyn
Posted by: ufil kpydu at 05.09.2007 11:56 AM
---
Post a comment